Birkenstock Granada Cocoa Nubuck
USA's First Choice for Birkenstock!
Item SKU#: 9232
Regular Price: $119.95
Today's Low Price: $118.45
You Save $1.50
Upper material: Thick yet supple leathers without additional dyes to keep the leather breathable, durable and comfortable.
Footbed: The original Birkenstock footbed - Featuring pronounced arch support, a deep heel cup and a roomy toe box. Covered with a suede liner. The footbed molds and shapes to your foot.
Sole material: EVA - Flexible, durable, lightweight, shock resisting soling material.
Decorative two-strap style in a variety of materials with fully adjustable straps and shock-absorbing EVA sole. Some colors and materials available with a soft footbed, a high arch or in kids sizes.
Customers Who Bought This Item Also Bought...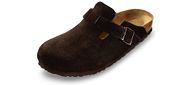 Birkenstock Boston Mocha Suede
Regular Price: $129.95
Today's Low Price: $128.45
You Save $1.50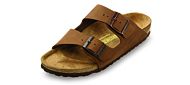 Birkenstock Arizona Cocoa Nubuck
Regular Price: $119.95
Today's Low Price: $118.45
You Save $1.50